:: Raymond P. D'Amante
:: Bryan L. Pellerin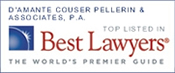 Member:


D'Amante Couser Pellerin & Associates, P.A. is an experienced law firm dedicated to meeting the needs of individuals and businesses in New Hampshire in the areas of Real Estate Transactions, Real Estate Development, Business Organization and Development, Construction, Estate Planning, Civil Litigation and Personal Injury. We are an organization rich in tradition and committed to providing a wide range of cost effective, high quality, professional services in our areas of concentration.
The firm began with Ray D'Amante's decision in 1979 to leave a larger firm and establish his own law practice. Over the ensuing thirty-six years, the last twenty with Bryan Pellerin's support, the firm has handled development projects totalling in the billions of dollars, including dozens of residential and commercial developments and national restaurant, hotel and retail clients, and established itself as the leading law firm in the region in the area of real estate development. Ray and Bryan, who are both engineers, provide the business counseling, construction legal services, representation of financial institutions, and estate planning and administration services that flow from the firm's commercial and real estate practice.
The attorneys in the firm are supported by a staff of three paralegals with years of experience in business and real estate, estate planning and civil litigation, enabling the firm to deliver quality service in the most cost-effective manner.
The firm is committed to active community participation. Attorneys have served in a number of nonprofit, community and state capacities. D'Amante Couser Pellerin & Associates, P.A. is a major sponsor of the annual New Hampshire Highland Games, the venue for the 2004 and 2011 World Scottish Heavy Events Championships, and the 2005 Master's World Championships, and awards The D'Amante Cup to the winner each year.