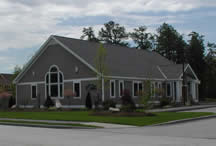 :: Raymond P. D'Amante
:: Bryan L. Pellerin
Construction
Construction law representation at the firm includes all aspects of construction law from drafting of contracts through construction activities and associated dispute resolution and litigation. Attorney Bruce Marshall is a licensed professional civil engineer with more than twelve years practical engineering/construction experience and more than a decade of related legal experience including more than four years as an assistant attorney general representing the New Hampshire Department of Transportation and more than five years representing dozens of New Hampshire, Massachusetts, Maine and Vermont contractors in all fields of construction.
The firm seeks to provide quality representation through its broad base of legal experience in the construction and development industry. The attorneys' experience include four engineer/lawyers with experience designing developments, administering construction, drafting related contracts and litigating construction related issues ranging from construction disputes to matters involving claims worth millions of dollars. Our primary focus is to obtain the best result for our clients at the lowest legal cost as quickly and efficiently as possible so that construction activities can continue as soon as possible. We have successfully represented hundreds of owners, developers, architects, engineers, insurance carriers, project managers, contractors, subcontractors and material suppliers in all aspects of construction related activities and litigation.
D'Amante Couser Pellerin & Associates, P.A. is a full service law firm recognized by Chambers and Partners, an independent rating service, as one of America's leading law firms for business. Firm attorneys are also among the Woodward and White "Best Lawyers in America," Chambers and Partners "Leading Lawyers in America" and New England's Super Lawyers in real estate, land use and zoning, litigation and other fields.