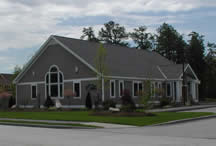 :: Raymond P. D'Amante
:: Bryan L. Pellerin



Complete Real Estate Development and Construction Legal Services

Real Estate
D'Amante Couser Pellerin & Associates, P.A. is a full service law firm recognized by Chambers and Partners, an independent rating service, as one of America's leading law firms for business. We provide a complete range of real estate services including:
Development Approvals
Land Use Planning
Site Plan Approvals
Subdivisions
Zoning and Approvals
Purchase and Sale Agreements
Leases
Contracts
Business Formation
Condominium Formations and Conversions
Land Sales Full Disclosure Act Filings
Construction
Title Insurance
Closings
§ 1031 Exchanges
Bonding
Tax Credit Financing
Civil Litigation
Civil Litigation including:
Environmental
Eminent Domain
Property Tax Abatements
Title Disputes
Property Rights
Adverse Possession
Partition
Contracts
Construction Disputes
Mechanics Liens
Injunctive Relief
Business Dissolutions

Raymond P. D'Amante, rated as one of the Leading Lawyers in America for real estate by Chambers and Partners, has represented development projects valued in the billions of dollars, including hundreds of shopping centers, residential, office, industrial, retail, institutional, and commercial developments, for local, regional and national institutional, restaurant, hotel, retail and other clients, and established himself as a leader in the region in the area of real estate development approvals. Ray is also rated one of the Best Lawyers in America for Real Estate Law and Land Use and Zoning Law by Woodward and White, one of New England's Super Lawyers and one of New Hampshire's Top Lawyers.
Bruce J. Marshall has unique qualifications in the area of construction law. He is a licensed Civil Engineer and attorney. His practice focuses on construction, construction contracts, development, real estate and business and construction disputes and litigation. Bruce practiced as a Civil Engineer for more than 12 years at the New Hampshire Department of Transportation. Following his engineering career, Bruce was counsel to the N.H. Department of Transportation as an Assistant Attorney General with the N.H. Department of Justice, handling a wide range of DOT related matters. Most recently, Bruce was associated with Getman, Stacey, Schulthess & Steere, P.A. handling construction related matters including litigation
Bruce frequently presents seminars or just group discussions with construction teams for individual contractors on legal issues that the contractors want to feature to their teams.
Bruce represents property owners, general contractors, subcontractors, engineers, architects, surveyors and lenders.